My friends Mr. Ullmar Qvick, SM5-1252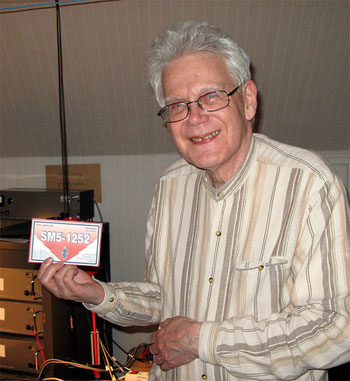 ULLMAR QVICK, SM5-1252
 TROZELLIGATAN 43 SE-603 52 NORRKÖPING SWEDEN  
Dear Angelo: 
It was nice to hear your Special Event Callsign commemorating the centernary of G. Marconi's receiving the Nobel Prize in 1909.  For fast information I use the E-mail, but I also send my SWL card   via the bureau. My personal presentation is in the attached file.
 Here are my SWL report details:   
CALL-SIGN: IY1GM, DATE: 2 JANUARY 2009. TIME UTC: 2142-2153, QRG: 3530 kHz, MODE: CW, UR RST: 579, 
QSO DETAILS: 2142 UTC WKG DK9PS WITH REPORT SENT 599 - 2146 UTC WKG OM3LL WITH REPORT SENT 599 -
2150 UTC WKG LZ5FF WITH REPORT SENT 599
I also heard IY1GM calling CQ with no reply on 14018 kHz CW on January 3, 2009 at 1242 UTC, RST 569  in vy bad condx. For this reception I was using my NRD 535D with a 40 m windom in Inverted vee form.   QSL is welcome via the bureau, but I would appreciate a short msg to confirm that you received my e-mail.  73 - tanti auguri! Ullmar, SM5-1252 
 Dear Angelo:
Many thanks for your e-mail with nice pictures of winter in the Italian Alps, G. Marconi and your shack! Yes, your QSL will be welcome, and no problem with the delay.... I often get cards after 2 years, and as long as I stay alive they are much appreciated! Angelo, I am writing articles for QTC (organ of Swedish Association for Radio Amateurs SSA - in other word our A.R.I.) - and my recent article was about Female Pioneers in amateur radio. There I mentioned Guglielmo Marconi. Why? Because Barbara Dunn, later G6YL, as an SWL in 1923 or 1924, heard Marconi's transmissions from his yacht "Elettra". He asked for reception report, she wrote and got QSL from Marconi! G6YL is considered the YL no.1 of Europe. I hope this piece of information is of interest to you and your friends. Thanks again, mille gracie amico Angelo. Hope to hear IY1GM also on other bands, and if so I will surely write.
Tanti auguri, Ullmar  SM5-1252